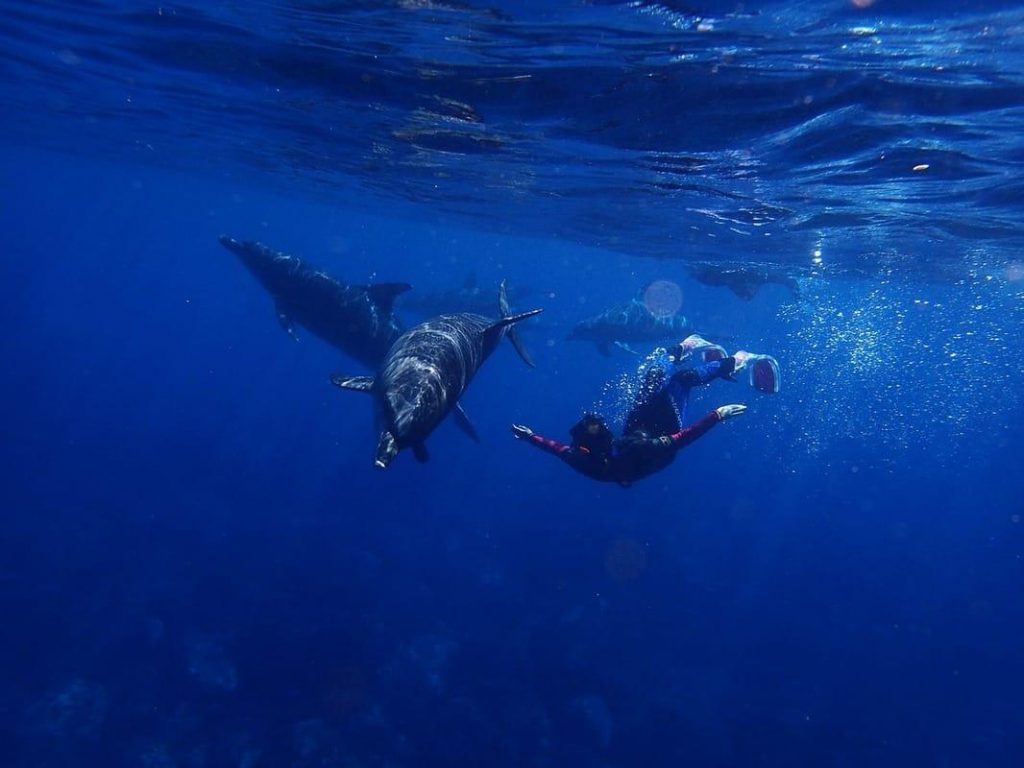 Life presents us with many opportunities to try new things. Sometimes we seek these opportunities, other times they seek us. Such was my recent encounter with diving.

Growing up in Colorado and living in the temperate San Diego climate has made me an outdoor enthusiast. Despite my love for nature and living 20 minutes from "Big Blue," diving has never been on my radar. I love running by the ocean, swimming in the ocean, and taking in the beautiful ocean sunsets, but diving…never had an interest.

Rewind about 7 months when diving first approached me in the form of a Groupon my husband purchased. "Guess whose going diving?" he asked me with glee? After 7 sleepless months, I was still trying to keep my head above water as a new mom, I figured he was joking.

He preceded to list off dates for our dive certification classes and began entering them in my phone. I stared at him in disbelief. Did he actually expect me to attend dive certification classes when I was drowning in exhaustion?

A few weeks later, I found myself in further disbelief as we sat in the back of a scuba shop listening to our instructor review buoyancy control while I rocked our son to sleep in his car seat. I'm pretty sure we are in the minority of people willing to 1) sign up for diving certification within the first year of parenthood and 2) bring our baby to class with us!

Our coursework transitioned to a full 8 hour day of enclosed pool diving (now I know what sardines feel like). This was followed by a "beach dive" (where you walk a quarter mile to the ocean in full dive gear (including tank) and brave the crashing waves upon entry. Mind you, visibility is not great in the freezing Southern California water and even in the clearest conditions, all you can see is some kelp and maybe a Garibaldi, if lucky. Sound like fun? I can assure you it was anything but!

In short, you must complete 4 open water dives before you are officially certified. I met every dive with resistance. After all, diving intruded on my life with no regard for my claustrophobia, fear of drowning, and overall lack of confidence breathing under water!

Ironically, when each dive day came, I found myself suiting up, ready to overcome my "fear mindset." One dive after the next, I began to feel more comfortable in my underwater skin. "Keep the end goal in mind," I kept telling myself thinking of the Southeast Asia trip my husband had planned.

Despite my initial trepidation, I am proud to say I now have my advanced diver certification and have swam alongside the sea turtles, tropical fish, sharks and sprawling rainbow coral in their creative habitat. While diving has been amazing (outside of my Southern California experience) the best part has been the transferable life lessons I have learned as a result. I plan to incorporate these life lessons as I move forward in the development of Creative Habitat.

1. Always have a partner for support (and to share the experience.).
2. Expect the best but be prepared for challenges.
3. Stay calm, take a deep breath, and be intentional about your next move.
4. Always keep your wits about you and learn how to function in an ever changing environment.
5. Get the best "gear" possible. Do not settle for less than the best.
6. Preserve energy! To maintain peak "buoyancy", do not carry extra weight, only what is necessary.
7. Sometimes you have to go with the flow.
8. Trust your intuition.
9. Keep your mask and vision clear!
10. Dive in with confidence, the adventure is worth it!

Next time life presents you with an opportunity to try something new or develop your creative gifts, I hope you will DIVE IN!