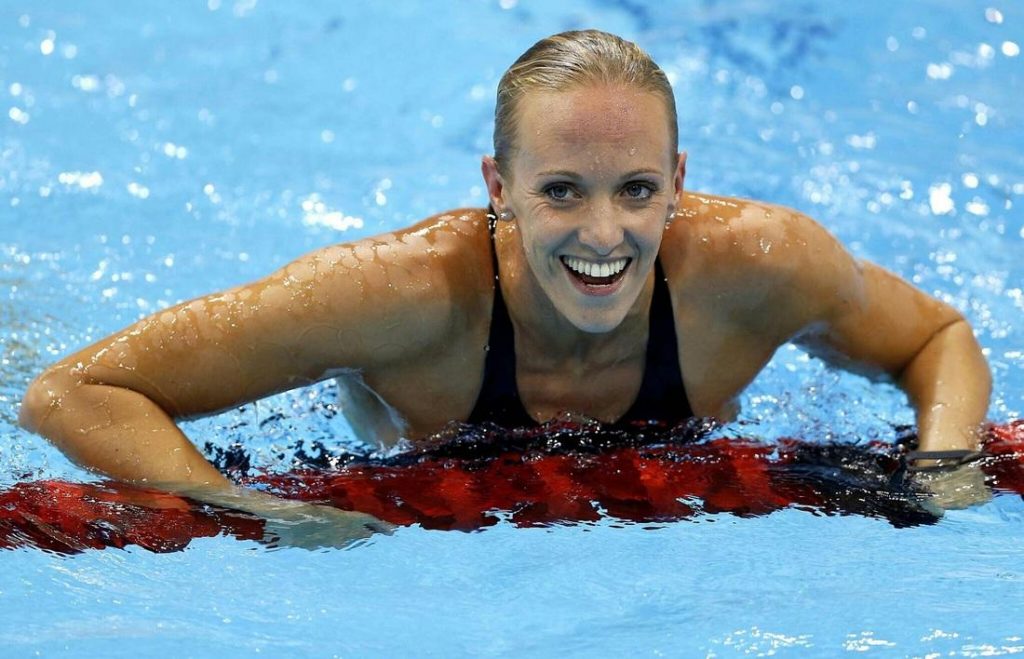 "Diving board", "Vault", and "Medal" are all among a slew of new words I've been teaching my son while streaming the Rio games this week. "Perseverance" and "Grit" are on the list to learn, but those will come with time, sweat, and energy in the future. Life alone will teach him. No Sesame Street episode or "Word of the Day" can convey the courage and endurance needed to persever under pressure, however the Olympics provide many examples of those who embody this spirit of grit!

In fact, every Olympian athlete embodies this tenacious spirit, yet, there is one who stands out to me during these games. Olympic Gold, Silver and Bronze medalist, Dana Vollmer is a 28 year old swimmer and 6 time world record holder as well as a "Momma on a Mission" as she proudly refers to herself.

So what makes Dana Vollmer stand out? Perhaps it's her humble spirit, down to earth demeanor or the fact she gave birth 17 months ago and is still competing in the Olympics, nevermind winning medals!

This means she started training months after birth, probably while still nursing and I'm assuming on very little sleep. I mean WOW! I'm truly in awe of her capacity and dedication to carve out time to swim! She embodies not only perseverance and grit, but the very mission I have been trying to convey with this blog encouraging busy moms to carve out creative time and space to refuel in daily living by retreating to their Creative Habitat (a protected environment promoting growth and well being)!

Dana's example is proof it is ok and healthy for moms, even brand-spankin new moms to retreat to our Creative Habitats to refuel. She swims laps at the pool and wins medals while I write blog posts and enjoy the simple pleasure of penning a few thoughts. Different outcome, same renewing effect!

Mommas out there, if you are exhausted, stretched to your limit, depleated of energy or perhaps you just feel like you have let an important piece of you go, I implore you…for the sake of your health and your family, please allow yourself creative time and space to refuel on a regular basis (if not daily). If Dana can return to the Olympics as a #Mommaonamission, we certainly can carve out a little mom"me" time to enjoy the creative gifts we embody!

GREAT RESOURCE:
This article describes Dana Vollmer's daily routine and "creative habits" that have allowed her to carve out some mom"me" time to refuel before spending the rest of the day enjoying mommy time with her son, Arlen.

"Time management is key," she told TODAY. "I kind of retired in 2013 and had my son. And my whole goal with this comeback was that I would always feel like my son came first. I have tons of super supportive moms I talk to all the time, and they always said you need some alone time for yourself. And that's what swimming became for me."

Did you like this post and want more encouraging and helpful resources to help you carve out creative time and space to refuel in daily living? If so, please "like" the Creative Habitat Facebook page HERE.