Before church…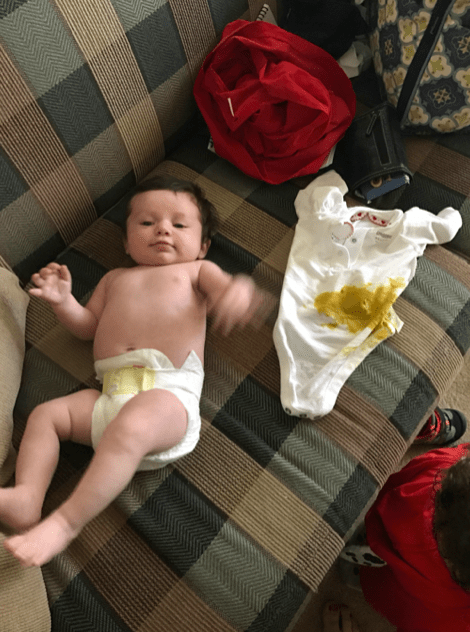 After church…
Hello creative mamas, I'm back! Not that I left…unless you consider Newborn Land an actual place. If so, I now have two proverbial stamps in my passport. While I am a bit more prepared this time around, mothering a toddler and newborn is a trip to say the least. Though I am starting to return to some aspects of my "before" state, I will forever be shaped by the "after."
After birth…
After changing two sets of diapers…
After attempting to potty train and sleep train simultaneously…
After starting to do something before being beckoned to do something else…
After returning to what I started, stopping and restarting (fill in the blank) at least 3 more times…
After giving myself grace for all my half-completed attempts…
After hours…way after hours…early morning hours…followed by a full day and more after hours.
After.
I'm living (and loving) in the aftermath of life. I'm finding 1 toddler + 1 newborn = too many diapers, loads of laundry and dishes to count and countless moments of "Awe." Awe in amazement I have been blessed with these two sweet kiddos. Awe, as in, "Aww man, my toddler just peed on the floor again." And then there is the occasional sleep deprived lapse in judgement, "This is Awful" quickly followed by my true mother's heart, "This is Awesome!"
I have included photos of my daughter this morning before and after church. I think these two images capture the essence of where I find myself these days, in between awesomely adorable and awfully messy moments. Somehow, all the moments mesh into a cute chaos I have come to love.
Before.
Before having kids, I did not realize the capacity our hearts have for love. Sure, I feel deeply loved by my family and have loved deeply in return, but motherhood takes that deep love and roots it to the core of one's entire being. If I have learned anything in my almost two and a half years of motherhood, it is that nothing is stronger than a mother's heart. This is why I am dedicated to investing in and refueling my own mother's heart through my creative gift of writing and hope to encourage you to invest in your creative gifts as well. I have learned plugging into one's creativity amidst the busyness of life not only refuels mother's themselves but everyone they impact! No matter what season of motherhood you find yourself in, may you find creative ways to refuel and stay inspired amidst all the "Before and After" moments of parenting.
Wishing you creative and refueling days ahead!
P.S.
If you are interested in sharing your own "Before and After" motherhood stories, please consider contributing a guest post to the Creative Habitat community! We'd love to hear from you❤️️