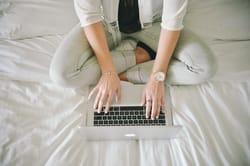 "There's a paradox in the notion that creativity should be a habit. We think of creativity as a way of keeping everything fresh and new, while habit implies routine and repetition. That paradox intrigues me because it occupies the place where creativity and skill rub against each other." ( Tharp, The Creative Habit, pg.9)

Dead Twyla Tharp,

I think your parents must have known you were going to be a creative genius when they named you. I mean honestly, how can you have a name like Twyla and not stand out?! Being the curious, creative being that I am, I looked up the meaning of Twyla.

"Woven"

Well, you have certainly woven the paradox of creativity and habit and found "a cord" with me. I think if you read this, you would like my play on words. Maybe someday you will. But even if you never do…thank you.

Thank you for weaving your creative gift of writing and conceptual thinking to publish "The Creative Habit" which has had profound significance on my life. I am dedicated to developing my own creative habits so I can use the gifts I have been given to serve our ultimate Creator and help other women do the same.

God bless you Twyla, for you have blessed me.

Sincerely,
Rebecca

P. S.
I love your choreography. Dance has always been my outlet. Even though I am beyond the prime dancing age, I will dance until my knees buckle! It is a creative habit I refuse to lose!